Accepted to the SRMR: check!
Now it's really time to think about gearing up for Kyrgyzstan! And by gearing up, I mean buying EVERYTHING, from scratch, like it's the first day my buttocks touch a saddle! Feeling like a n00b…
THE BIKE
Being a Trek aficionado, I had, at first, focused my attention on a Trek Boone 7, a lightweight carbon fiber cyclocross bike. Little I knew about bikepacking and riding offroad. The more I read about the SRMR, the more I understood that my first choice wasn't the right one. My search turned to a more comfy bike, with the ability to put large tires. The only parameters that didn't change, were the willingness to have a light bike, a high quality single chainring group-set for a maximum of CHF 4500.-. A friend of mine, experienced bikepacker, introduced me to titanium. This material has the same properties as carbon fiber (lightweight) and steel (easy to repair) combined. What to wish more?? Little I knew that a whole new challenge had just started: the quest for a fair priced titanium gravel bike.
After weeks of research and thinking, the Reilly Gradient bike stood out and was confirmed as the final choice! Here below are its characteristics.
REILLY Gradient specs
Titanium 3AL-2.5V frame
SRAM Force 1 – 40T / 10×42 with flat-mount disc brakes
DCR aluminum low profile wheel-set (cf. picture below)
142mm x 12mm thru axle
Reilly Vector carbon seat post
Reilly Vector titanium RS saddle
Deda Zero 1 aluminum handlebars and stem
700c 44mm tire clearance
Approx 9 kg
BAGS
Well, bikepacking wouldn't be a thing without bags… be them backpacks or bike bags! I've already had a little taste of this discipline, last year, during a road trip a bunch of friends and I did from Nice to Florence. Mind you, nothing to do with an offroad bikepacking at 4000m… Still, this means I already have a piece of kit! A Ortlieb 16.5L Seat-Pack!
This basic setup will substantially be enhanced by the acquisition of two Apidura bike bags: a handlebar bag as well as a frame bag.
Apidura Expedition Handlebar Pack 9L

Apidura Expedition Full Frame Pack 7.5L
The total amount of space available will be of 34L. If the budget allows it, I might stretch it to 38.5L by adding an additional 4.5L bag sitting above the standard handlebar bag (see image below).
TECH GEARS
My electronic setup will be comprised of the following:
a GPS
a phone
a headlamp
a dynamo
a usb charger
The trick is in understanding the big picture of the whole ecosystem as well as all the existing alternatives for each gear. Here below is the diagram that helped me simplify and understand the interactions between all the tech gears.
Mind you, not every piece is compulsory, so I won't get everyone listed in this picture. Here are my choices:
The "dyno"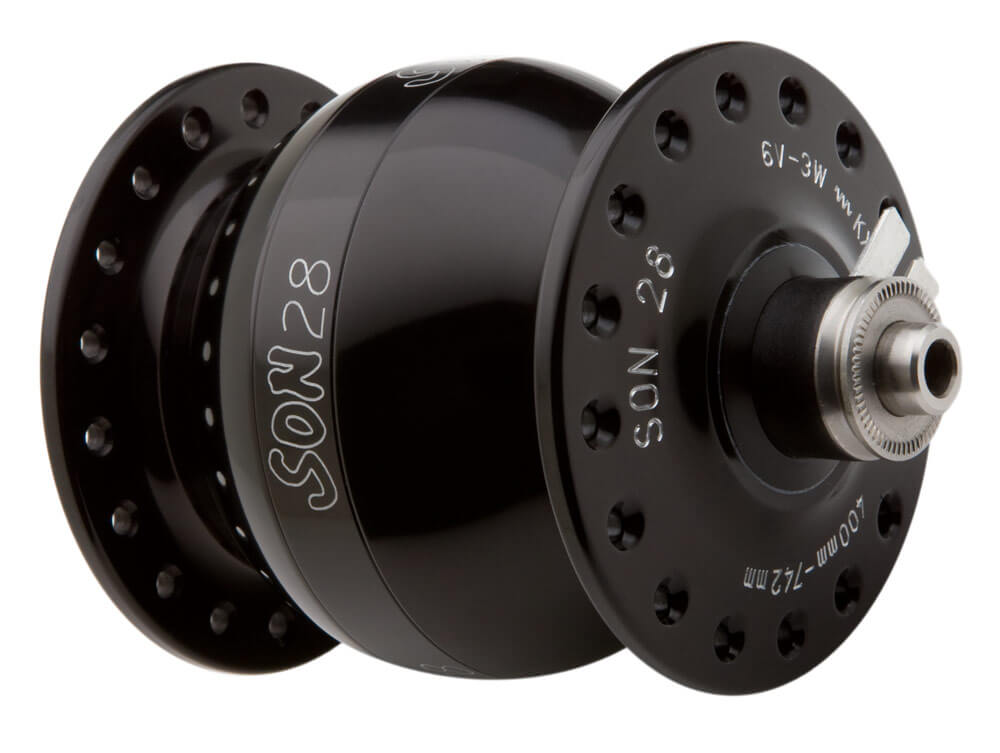 This piece is crucial to the system's viability. It's the source of power! My choice went for a premium and renowned brand, and specifically with a model that is the most efficient at low speeds (bike pushing, high altitude passes, offroad cycling…).
The GPS
I was "born" with Garmin and wanted to stay with this brand. The choice of the Edge 1030 was made due to the fact that you can incorporate in a very sleek way an additional battery adding 24h autonomy to the already existing 20h… I also wanted a GPS that I could easily use on my road bike for more conventional tours.
The phone
The iPhone will serve two purposes for one device only: camera and as mean of communication. I expect to be quite tired during the whole trip, so I won't spend much time taking pictures, hence the absence of a proper camera in my kit-list (no DSLR, or compact camera…).
The USB charger
At first I thought I would go for the Sinewave Cycles Reactor USB charging system. It's a a neat and sleek system that embeds at the top of the headtube. The problem is that it is not that universal, due to the fact that each brand has a different internal headtube structure. Hence the choice of going with an external USB charger.
The headlamp
The choice was simple: I was advised by an experienced alpinist, friend of mine. FYI, I was told to avoid Petzl brand.
WHAT ABOUT WHEN I'M OFF THE BIKE?
Here's another part of the challenge that must not be underestimate. It's odd to say it, but in a bikepacking race you can loose or win depending on your sleep!
The tent
The great question was: should I buy a tent, a tarp or a bivy bag??
You guessed it from this section title, I went for the tent option. But why? Well, a tent can better protect you from windy conditions, which might often happen in Kyrgyzstan. Additionally, a tent does what a tarp and a bivy bag do combined. Better safe than sorry. Budget speaking, tents can go from 100$ to 1400$… of course if I could afford the latter budget, the question wouldn't even have been asked. But, using a bit of common sense, you can guess that a 500$ tent can really do the trick!
The three most important aspects to take into account are: portability, weight and structure. Portability: once folded, the tent mustn't be bulky. Weight: it must be light (1.5kg max). Structure: it's better to have an igloo-shaped tent to withstand high winds.
These three conditions were perfectly met by the brand new bikepacking tent range produced by Big Agnes. Here below is the chosen one:
The sleeping bag
This is THE piece of kit on which you do not want to save money!
Give your body and mind that cocooned feeling it deserves and it will eventually transform it in performance and power the next day. The two most important specs to look at are: Comfort temperature Limit and Weight. Comfort temperature rate: do not go above 3°C. Weight: do not exceed 1kg.
That's a tough one to choose. Not having purchased it yet, I still hesitate between a few brands such as Big Agnes, Rab, Western Mountaineering or Thermarest. Still, I do believe this latter will be my final choice (cf. image below). It's rated as -6°C and weighs only 580gr. :O
CLOTHING
Facing 4 seasons weather in one day seems to be part of a standard day in Kyrgyzstan. From 40 to -10°C, modularity will drive my clothing strategy.
BOTTOM
Bib short speaking, I will be riding on either Assos Cento or Rapha Brevet bib shorts. Both are shorts and are specifically made for long distances. They will be complemented with leg warmers (modularity!). Browsing on the web, I also found an interesting bib shorts concept allying the "cargo shorts philosophy" to the bib shorts world => the Rapha Cargo Bib Shorts ($$$)! It's a nice-to-have but might give it a go when the budget will be less tight!
In case of rain, I will rely on the longtime Helly Hansen's waterproof experience with the Odin Skarstind pants.
Socks mustn't be forgotten. And the Showerpass brand will be the go-to brand for extreme weather situations, when waterproofness is needed.
SHOES
After a little poll on the Silk Road Mountain Race participants facebook group, clipless is the way to go!
Yet, that's just the tip of the iceberg… What brand? What kind? What model? The choice is way too wide. Yet, after having decided if you wish to have flat or clipless shoes, think if you want to favour performance or comfort. Personally, I opted for a sneaker-ish style shoe made by a renowned shoe cycling brand: Giro.
TOP
The onion technique will allow modularity to keep the upper part of the body at the right temperature.
Baselayers: 2 sorts; merino with long sleeves and a Craft summer lightweight baselayers.
Jerseys: a Velosophe standard jersey and a Castelli Climber's 2.0 jersey, complemented with merino Rapha long sleeves
Jackets: 2 jackets, Arcteryx waterproof jacket and a Rab Xenon-X down jacket will be part of the trip.